CAD-CAM
When in implantology we talk about CAD/CAM, we are referring to a technology to make our prostheses over implants by means of a software tool that helps us to design the structure and a subsequent machining or milling process that works under the orders of the computer.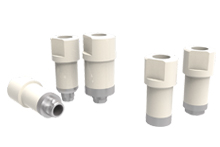 This method is therefore a new step forward which is combined with those already achieved in other fields of odonthology such as planning software or the possibility of working on a three-dimensional software model before surgery..
The use of this new technology has changed the approach to prostheses supported over conventional implants, offering new horizons and perspectives that make it far easier to achieve high-quality restorations with high aesthetic commitment and in a shorter period of time..
Intended for international use only. Indications for use of products and/or therapies contained herein may not be cleared /approved for use by the following Health international agencies: US Food & Drug Administration, Health Canada or Japanese Health Ministry. To access the specific information of your market, use the country selector located on the top menu of this page.