All prosthetic components and surgical instrument products are supplied clean and in packaging, and those that indicate it on their label will also be supplied sterilised. For all other products, we recommend that all instruments and components are sterilised before their first use. The components used in the prosthetic laboratory do not require sterilization.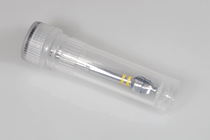 Before being packaged, all instruments are coated with an oily liquid, particularly at articulations, hinges and threads. Before use it is considered to be necessary to carefully clean and rinse the instruments, to avoid complications such as stains, hardening of articulated parts, etc.
After using the instruments, proceed to clean and sterilise them according to the procedures described in the Product Maintenance Instructions document.