What is sleep apnoea?
Sleep Apnoea and Hypopnoea Syndrome (SAHS) is a very common pathology (it affects 25% of the population) that entails a number of risks for health of the patients.
Thanks to APNiA® the patients with mild and moderate apnoea can be diagnosed and treated in dental clinics using personalised splints. It is also useful for patients with severe apnoea who reject or do not tolerate treatment with CPAP machines, provided by sleep units, or to establish combined treatment.
Normal situation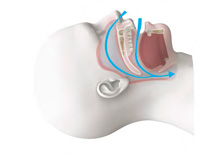 The air enters and leaves through the airways normally.
Snoring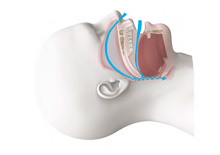 The narrowing of the space between the palate and the tongue causes vibration when air passes (snoring) and/or partial obstruction of the airway (hypopnoea).
Sleep apnoea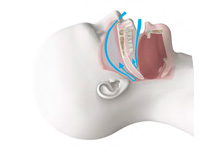 Total obstruction of the airway. The space between the tongue and palate closes completely and prevents air from passing.
Why treat this at a dental clinic?
Recently published studies show that there is a direct relationship between bruxism and SAHS, so dentists become the first port of call for the detection of sleep apnoea and thanks to APNiA® they are also the first port of call for the diagnosis and treatment of mild-moderate cases of SAHS and patients with chronic snoring.
BTI APNiA®
System of diagnosis and treatment for sleep apnoea and snoring
The APNiA® system is the only one on the market that allows diagnosis and subsequent treatment. It consists of an electronic device that performs the sleep study, diagnosis software and an intraoral device to treat to the patient.
Electronic Device APNiA®
APNiA® detects 7 different information channels while the patient is sleeping: respiratory flow, respiratory effort, oximetry, heart rate, body position, snoring and respiratory rate..
The device is comfortable and easy for the patient to put on at home, adjusting the nasal cannula and pulse oximeter on the index finger.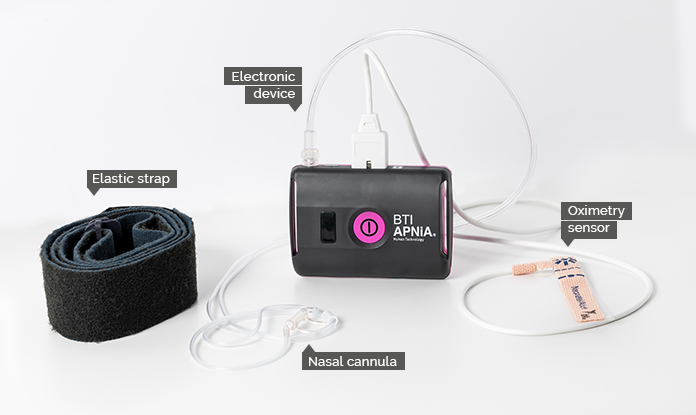 Diagnosis Software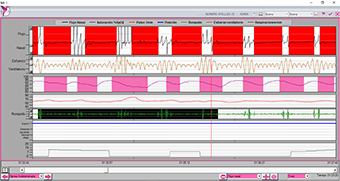 The device software lets you know simply, reliably and fully automatically whether the pathology is present and its level of severity.
APNiA® Intraoral Device (DIA)
The APNiA® intraoral device BTI DIA consists of two tensors that are placed on the anchors placed by the prosthetist on the sides of a splint adapted to the patient's mouth, preventing the backward movement of the lower jaw.