Publisher
BTI forms part of Teamwork Media, one of the international publishing groups with the most presence and prestige in the dental sector in Europe, publishing in Spain the Dental Dialogue journal and highly specialised works in the field of odontology and tissue regeneration.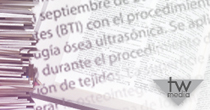 This commitment to providing information is evident in the continuous effort carried out by BTI in the publication scientific articles in the most prestigious journals with the most global impact, which shows its intense researching activity, with an average of fifteen articles published per year.
Dental Dialogue, Spanish edition, is aimed at odontology and surgery professionals, stomatologists, odontologists, maxillofacial surgeons and laboratory technicians.
Education, that is the reason behind the creation of the Dental Dialogue journal, and to achieve this goal we have created a unique publishing concept: the publishers in the various countries in Europe, America and Asia where Dental Dialogue is published exchange their articles, making it a truly international journal, in its conception and content.
It is the publisher and the local scientific committees who assess the articles and choose them, giving the journal a local perspective that guarantees our subscribers a quarterly journal that corresponds to their interests and concerns.