Certifications
Endoret®(prgf®) Technology has been conceived thanks to a series of precise and very rigorous protocols during each stage (extraction, centrifuging, fractionation, activation and application), which guarantees the predictability of the quality of the final product obtained.
All this scientific and methodological rigour has enabled it to receive European (European CE mark) and American (FDA Approval) health certifications, both for the different applications of the product and for each and every one of the elements necessary for their application (health products).
Healing of venous ulcers
Consolidation of bone fractures and grafts
Fixation of prostheses in the hip, knee, etc.
Oral implantology
Lesiones y roturas de ligamentos, músculos y tendones
Treatment of skin burns, injuries and lesions
Regeneration of aged skin
Regeneration of ocular tissues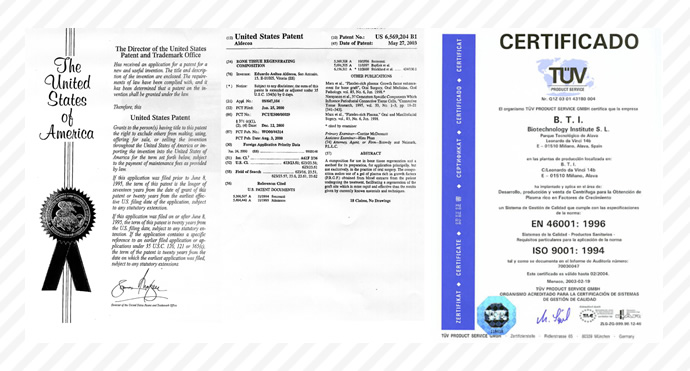 This technology has received the certifications for its use in different fields of medicine.
Intended for international use only. Indications for use of products and/or therapies contained herein may not be cleared /approved for use by the following Health international agencies: US Food & Drug Administration, Health Canada or Japanese Health Ministry. To access the specific information of your market, use the country selector located on the top menu of this page.