Research
BTI Biotechnology Institute has, since its creation, been a company dedicated to intense research activities in different medical fields such as oral implantology and regenerative medicine with a translational vision.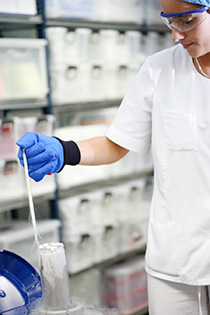 It is a pioneering company in this field, giving the concept of R&D&i a new meaning. Research, development and innovation are carried out at BTI with a biological approach, which allows us to provide new personalised therapeutic solutions while at the same time developing new basic biological tools associated with the surgical processes and adapted to different medical fields.
The company's research team detects new applications and needs and offers creative solutions. At BTI innovation is present in all fields, from preclinical research to production systems, including the treatment of materials and training, among others.
BTI is firmly committed to and unconditionally supports the creation of multidisciplinary fora that facilitate the communication, sharing and exchange of knowledge among professionals through scientific journals, round tables and scientific congresses. For this reason, BTI actively participates in congresses of multiple medical societies, two biennial symposia, one dedicated to oral implantology and another to translational regenerative medicine, and events which deal with current issues with a high level of rigour and of sanitary and social and interest, with an excellent panel of speakers.
Intended for international use only. Indications for use of products and/or therapies contained herein may not be cleared /approved for use by the following Health international agencies: US Food & Drug Administration, Health Canada or Japanese Health Ministry. To access the specific information of your market, use the country selector located on the top menu of this page.