30º Angulation Hexed Prosthetic Screw
A new hexed prosthetic screw is presented. It is intended to be used for final machining CAM prosthesis connected to Multi-Im exclusively.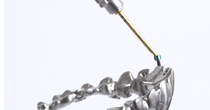 Is made of titanium grade 5 and the recommended torque is 10 Ncm The new torque wrench tips are intended to use when access to the screw head prevents the use (angulation > 15º) of a bendable torque wrench tip (PTHAXX). It should be used exclusively with TTMI30 screws. The recommended torque is 10 Ncm and maximum angle 30°.
Due to the specific design of these tips the retention is lower than the traditional hexagonal tips.