Therapeutic areas
The latest advances in medicine are increasingly leading to the adoption of new minimally invasive therapies and procedures. In this respect, Endoret®(prgf®) has opened new paths and therapeutic approaches thanks to its accessibility and reparative capacity.
Endoret®(prgf®) is applicable in many fields of medicine, where its high level of efficiency in the regeneration of different tissues has been proven: bone, skin, oral mucosa, tendons, ligaments, muscles, cartilage, cornea, covering all medical specialities such as: oral and maxillofacial surgery, orthopaedics and sports medicine, dermatology, ophthalmology, vascular surgery, plastic and cosmetic surgery and even veterinary surgery.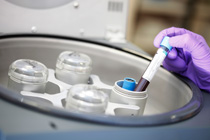 At BTI we are carrying out important research and making an enormous clinical effort to develop new formulations and protocols for the application of Endoret®(prgf®) with the aim of improving the treatment of a wide range of clinical situations.
This section may describe clearances in countries other than the United States, and therefore may contain indications and information that are outside the scope of the FDA-cleared.