Endoret®(prgf®) in oral and maxillofacial surgery
Endoret®(prgf®) was initially developed to be applied in oral and maxillofacial surgery, becoming an international reference and revolutionising the sector..
The advantages that this technology brings to this field of medicine are the following: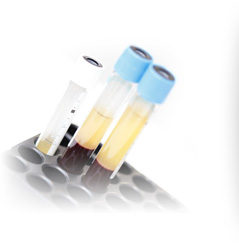 It stimulatess the healing of wounds..
It improves the osseointegration of soft tissues.
It accelerates the osseointegration of the implant by creating a biologically active nano-membrane on the titanium surfaces.
It provides an autologous clot and a biocompatible fibrin membrane to fill in and seal defects which, in addition, reduces inflammation.
Its preparation and handling are simple, reducing the risk of infection or any other post-op complication.
It offers more biosafety and predictability for dental implants.
Endoret®(prgf®) technology can be used in daily clinical practice in:
Post-extraction areas
Regeneration around implants
Intraosseous defects
Sinus elevations
Crestal expansion
Vertical Growth
Treatment of periodontal defects
The results show high levels, unheard of until now, of effectiveness, safety and predictability in oral surgery and oral implantology.
Endoret®(prgf®) is used in oral surgery to promote bone and adjacent soft tissue regeneration in post-extraction defects. The method consists of filling and sealing the post-extraction defects with the standard biological matrix and with autologous fibrin.
The wetting of the implant surfaces with non-activated Endoret®(prgf®) creates a much more favourable biological environment for osseointegration, as a protein interface is achieved that favours cell migration over the new fibrin bridges created between the osseous wall and the implant surface.
Application of Endoret®(prgf®) in Odontology: Periodontal Disease
Periodontal disease leads to a loss of supporting structures that include the cementum, the periodontal ligament and the alveolar bone.
Conventional treatments such as scaling and root planing are effective to improve the health of the periodontal tissues and to slow down the progression of the disease, but they do not manage to effectively regenerate the periodontal support lost.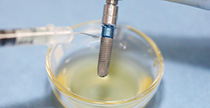 An inconvenience found with current periodontal regenerative treatment procedures is their limited predictability. The complete restoration of the insertion system of each defect treated is not yet a reality. To achieve the regeneration of the periodontium a series of biological events must unfold that include proliferation, chemotaxis, cellular adhesion and differentiation, which would lead to a functional periodontal unit.
This section may describe clearances in countries other than the United States, and therefore may contain indications and information that are outside the scope of the FDA-cleared.