BTI Day 2020: global online event
Friday, November 13, 2020
The company directed by doctor Eduardo Anitua presents its latest advances in a streaming event on November 20 and 21
The company directed by doctor Eduardo Anitua presents its latest advances in a streaming event on November 20 and 21.
Vitoria, November 12, 2020. BTI Biotechnology Institute, a company specialized in oral implantology and regenerative medicine, celebrates BTI Day 2020 on November 20 and 21, a new edition of the annual scientific conferences in which present the latest developments developed by the BTI R&D team headed by Dr. Anitua.
Unlike previous years, the current situation caused by the pandemic means that this time the BTI Days cannot be held in person, but BTI wants to remain close to the professionals in the sector, which is why it has prepared some BTI Days that will be broadcast in streaming.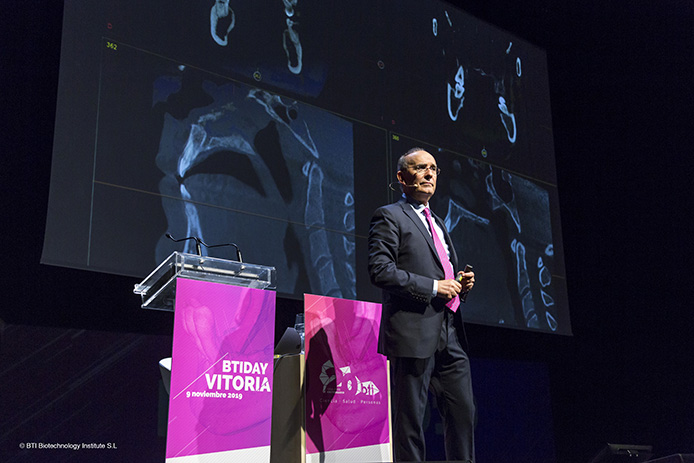 Taking advantage of new technologies, BTI Day 2020 will be a global event, broadcast simultaneously throughout the world in 8 languages, and open to all professionals in the sector, whether or not they are BTI clients. The event will consist of 2 sessions lasting approximately two hours, which will be broadcast on November 20 in the afternoon and November 21 in the morning.
This year's conferences will feature a complete program based on science and innovation developed by BTI over the last year, which will serve to publicize important advances in surgery and prosthetics worldwide, backed by rigorous biomechanical work in which they combine clinical and engineering.
On the other hand, the latest implantology designs from the Vitoria company will be presented. Among these designs, the presentation of a new extra-short 4.5 mm implant stands out to easily and atraumatically resolve severe atrophies in the jaws. In addition, a novel prosthetic approach for the treatment of pathologies of the oral mucosa will be presented.
The latest initiatives launched by BTI to improve its adaptation to the digital environment will also be presented, such as the new corporate website, the new training website (BTI Training Center), and the BTI Channel, a new audiovisual content portal on oral implantology and oral health focused on both the professional of the sector and the general public.
As in previous editions of BTI Day, as usual for years, the entertainer and host of the conference will be José Luis Izquierdo (Mago More).
The news in the radio (Spanish)
You can hear the original record (in Spanish) here