Stanford University places Dr. Eduardo Anitua in its ranking as the most influential Spanish researcher in the world of Dentistry
Wednesday, March 10, 2021
Dr. Eduardo Anitua leads the list of the seven Spanish researchers in the dental sector who have been included in the classification of the most relevant scientists in the world.
This list identifies the top 2% of the most cited and influential researchers in the world according to their scientific career.
Vitoria, 10th of March, 2021. Doctor Eduardo Anitua, scientific director of the BTI Biotechnology Institute company, came out top of the list of Spanish researchers in the dental sector who feature in the ranking of the most relevant scientists in the world (Ranking of the World Scientists: World's Top 2% Scientists), one of the most prestigious rankings of researchers at an international level, recognising these scientists as the most influential and cited in the world.
The ranking, put together recently by the University of Stanford and published in the Plos Biology journal, is based on several parameters that include the number of publications indexed in Elsevier's Scopus database, citations received, h-index, works co-authored and a composite indicator (Score). As a result, a database of over 150,000 top scientists across various fields of knowledge has been created, representing 2% of the most important researchers out of a total of almost 7 million active scientists all around the world.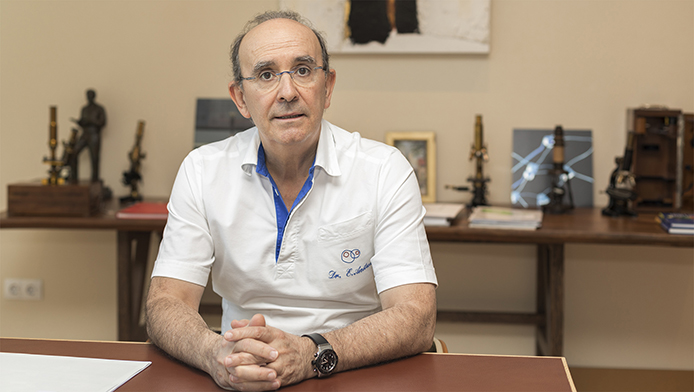 Specifically, in the area of Dentistry, it identifies 1,237 researchers in the world. Topping the Spanish list is Dr. Eduardo Anitua, who, also figures prominently in the world ranking, in position number 62.
For doctor Eduardo Anitua, founder and scientific director at BTI, "featuring among the most cited researchers in the world is a significant international acknowledgement of the scientific quality of our work and encourages us to continue moving forward on the path that we embarked upon over 30 years ago".
Spanish Scientist Top List in Odontology
| Researcher | Research Center | #Pubs | Score | World Ranking |
| --- | --- | --- | --- | --- |
| Eduardo Anitua | BTI Biotechnology Institute | 241 | 4,0388397 | 62 |
| Mariano Sanz | Universidad Complutense | 306 | 3,7541694 | 218 |
| David Herrera | Universidad Complutense | 137 | 3,3328979 | 809 |
| Cosme Gay-Escoda | Universidad de Barcelona | 280 | 3,2869952 | 912 |
| Manuel Toledano | Universidad de Granada | 228 | 3,2866219 | 913 |
| Jose Bagán | Universidad de Valencia | 230 | 3,2603692 | 986 |
| Miguel Á. González-Moles | Universidad de Granada | 108 | 3,2391993 | 1053 |
The news in the TV (Spanish)
The news in the radio (Spanish)